HAL 9000 SYSTEMS
© HAL 9000 Systems (Pty) Ltd. 1994 .. 2008. All rights reserved.

Intellectual Property, Contract and Risk Management made easy with ManIPulateTM Pro




"A World Of Knowledge"
ManIPulate™ Pro

Since 1994 HAL 9000 Systems (Pty) Ltd has been the leading Intellectual Property, Knowledge, Contract and Risk Management Software Solution business in South Africa. Specialising in a broad field of I.P. And knowledge management solutions including, Contract Life Cycle Management (CLM), Electronic Document Management Systems (EDMS) and Intellectual Property Management Systems (IPMS), ManIPulateTM Pro our award winning software offers turnkey solutions to enterprise administrators, while shielding them from the complexities of complicated system start-ups.

ManIPulateTM Pro is HAL 9000 Systems (Pty) Ltd award winning software, designed to protect you from the high percentage of expensive software deployment failures caused by complexity of applying change to an existing environment. We have learned through experience, in a wide variety of industry, that the success of a new software deployment is almost entirely driven by the simplicity of use and implementation of the software. HAL 9000 Systems (Pty) Ltd have based the development of the ManIPulateTM Pro application on this paradigm and have created a simple rules driven interface that guides the user to create a structured repository of records that are easy to search, navigate and manage.

HAL 9000 Systems (Pty) Ltd extensive investment in R&D provides the most current and effective solutions for the Knowledge Management Administrator incorporating the latest technology in design and function. We are continuously expanding our knowledge base through educational projects and strive to give back through our mentoring programs for young talent.

The definition of software based Knowledge Management is, the use of applications to ensure the systematic management of valuable knowledge assets.

With this approach to the management of today's important business information administrators can reduce risk in compliance and associated contractual obligations.

A great deal of time and money is spent on negotiating and authoring agreements. Unfortunately, that is where most of the effort ends, and these critically important documents end up in a filling cabinet, sometimes never to be found again and in most instances only to be resurrected when something goes awry.

We believe that a few simple rules and a structure based on tried and tested systems can and will save you and your company both time and money and ultimately improve relationships with vendors and clients alike.



Latest News

The prestige motor manufacturer Mercedes Benz South Africa is one of the latest in a long and impressive list of clients to avail themselves with the ManIPulate™ Pro Knowledge Management System from HAL 9000 Systems. Mercedes Benz is using the application to manage its South African group wide contracts. The application is being hosted from the company's headquarters located in Zwartkop, Gauteng.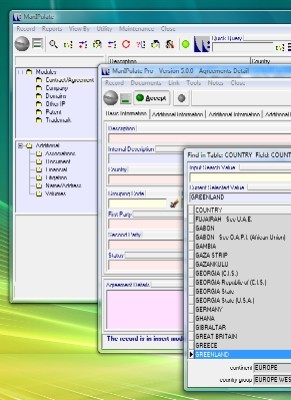 EULA
End User License Agreement

Saving Time, Money and Resources
ManIPulate™ Pro MAKES INTELLECTUAL PROPERTY, CONTRACT, AND DOCUMENT MANAGEMENT SIMPLE, ENHANCING COMPLIANCE AND COLLABORATION FOR BETTER CONTROL

You can forget ever having to search for missing paper matters and the consequences of lost information, with ManIPulate™ Pro, the leading knowledge management solution, you eliminate risk and enhance compliance.

• From Authoring right through to renewal, automate the entire process.

• Advanced management of all important matters, including IP, Procurement, HR, Litigation, etc.

• Enhance collaboration and strengthen operational, contractual, and regulatory compliance