HAL 9000 SYSTEMS
© HAL 9000 Systems (Pty) Ltd. 1994 .. 2008. All rights reserved.

Knowledge Management made easy with ManIPulateTM Pro


ManIPulate™ Pro
"A World Of Knowledge"


Solutions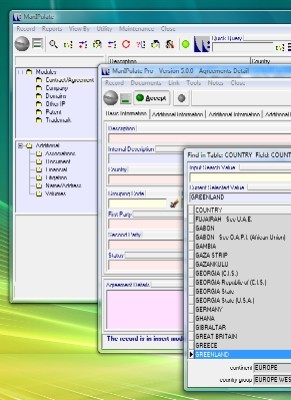 ManIPulate™ Pro is the complete management solution for a Corporate Intellectual Knowledge portfolio - encompassing comprehensive administration of trademarks and patents, a complete contracts agreements module with advanced document handling and archiving capabilities, litigation, registered users and associations in an easy, user-friendly environment. The package also takes care of such vital and time consuming tasks as keeping track of, and offering advanced warning of renewal, expiry, next action and other important dates with powerful reporting, e-mail and external file linking functionality.

With this system the user has easy access to all relevant stored information in a unitary database. Administrators can select security levels to limit access within the system and create multi tier authority for different users. ManIPulate™ Pro is a client server system allowing any number of connections simultaneously using relatively few resources, the system is infinitely scalable and is presently being used across LAN and WAN applications. To minimize startup time, ManIPulate™ Pro is supplied with a complete database of up-to-date city, country, status, classification and class information, supplied by South Africa's leading intellectual property attorneys.

We have invested heavily in understanding the processes involved in the lifecycle of various different contracts. The inception of a contract or agreement usually commences some time before the documents need to be signed. There is a procedure, which includes planning, structure, risk, cost analysis and compliance that can be driven by rules to simplify the process of formulating and ultimately publishing a contract or agreement.

Using document templates to assist in the formulation of agreements saves time and helps to unify the production process, creating best practice protocols within the organisation. With ManIPulate™ Pro, we aim to simplify the process even further, with relevant pre populated database information to choose from, offering savings in time and accuracy.


ManIPulate™ Pro

Giving you the competitive advantage